Conferences
Oasis Hotel Apartments has 4 impressive large halls, with sizes ranging from 100 m2 to an enormous 400 m2 space, available for you to organize any meeting, conference, seminar or company and business event.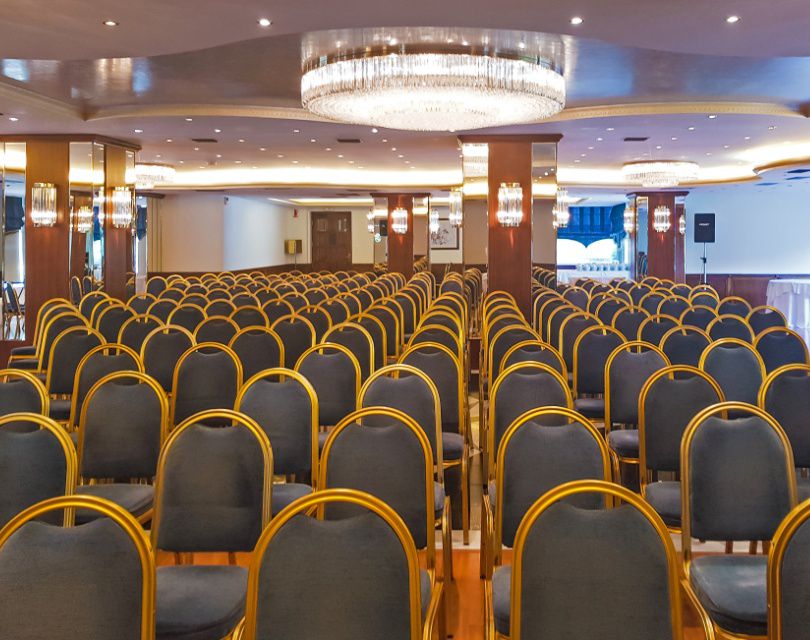 Kefalonia Hall is the flagship of our conferencing spaces, with an enormous expanse of 400 m2, able to seat 150 persons. The second largest space is Macedonia Hall, covering 200 m2, with a total capacity of 100 seats, the same with Poseidon Hall, which is slightly smaller in area, expanding over 180 m2. The fourth and smallest space, available for seminars or smaller meetings is El Panama Hall that accommodates up to 50 people, spanning an area of 100 m2.
Except of the provision of ample space for virtually any number of attendees your conference demands, the highly qualified F&B manager will take special care of coffee and lunch breaks, by organizing the appropriate menu and the servicing required for all attendees, fully catering to all of your needs so you can safely focus on your work.
Additionally, it is important to note that all of the halls provide the utmost discretion for your meeting, including a fully soundproof wall design. A variety of modern audiovisual and other kinds of auxiliary equipment and amenities will be provided, so you can have all the tools necessary to hold any kind of meeting at your disposal. The following items are included:
Air conditioning
Darkening
Stage
Podium
Microphones
Amplifiers
Flipcharts
Blackboards
Standard Screen
Wide Screen
Overhead projector
Lcd projector
TV
DVD player
Photocopier
Wireless Internet Access
DSL Router