Hotel Facilities
Relax in Our Amazing Outdoor Swimming Pool
Our terrific swimming pool is widely considered one of the best in the region. It is one of the largest in the surrounding area and it lies in the heart of an evergreen, well-maintained garden, full of palm trees and other plants, which create a sensation of a tropical oasis just a few feet away of one of the main avenues of metropolitan Athens.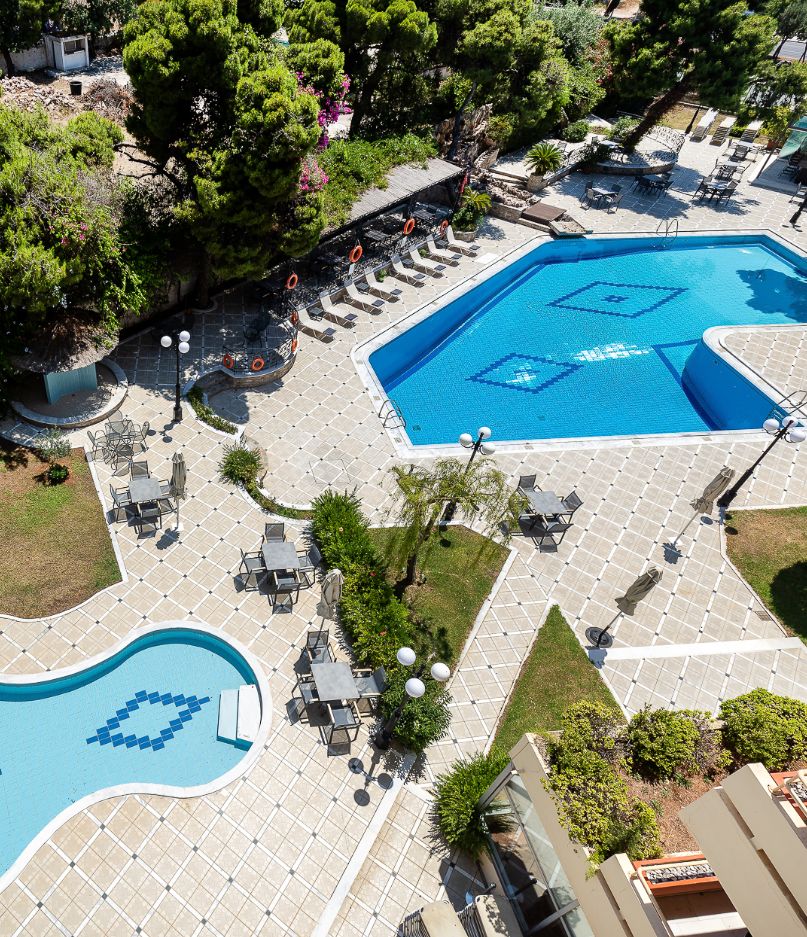 The accompanying smaller swimming pool for children with its kidney shape and equipped with a jacuzzi compose, along with the main pool, the perfect ensemble of relaxation and leisure for any kind of sun lovers, including families.
With its large size, the pool complex can safely accommodate many guests simultaneously without the slightest compromise in complying with the most strict health and hygiene protocols. Additionally, the comforting presence of a fully certified and experienced lifeguard during the open hours will let you relax and let your children enjoy the water.
*We would like to inform you that our pool will start operating daily from 11:00 - 19:00 pm from 05/05/2023. 
It is to be noted that our swimming pool is also open to non-residents of the hotel.
The general public can enjoy our facilities at a daily charge of EUR 20,00/person. On weekends and bank holidays, the cost is EUR 25,00/person. 
Children under the age of  3 - free of charge [up to 2 children per couple].
Coffee or juice or any refreshment and one sandwich are included in the price.
Lifeguard provided from 11:00-19:00
Facilities & Amenities
Broadband Internet access
Secretarial services
Private Parking
Laundry & Dry Cleaning service
24-hour Reception Desk
24-hour Room service
Concierge service
Wake up calls
Taxi Call service
Transfer to / from the airport / port / train / tram or subway station (available upon request at a special rate)
Express Check-out
Doctors Assistance (OR)
Baby Sitting (OR)
Rent a car desk
Currency exchange
Luggage porter
Luggage storage
The accredited 'El Panama' restaurant is ready to welcome you, specializing in international cuisine, although the chef can also prepare delicious traditional Greek dishes for you, along with light snacks.
In the summer months, food is served in poolside elegant tables, forming a memorable dining scenery, near the crystal clear water and being among the palm trees with a matching discreet lighting. For those who prefer to dine at the comfort of their own apartments, food delivery service to the rooms is of course also available.
In addition to the premium lunch and dinner services offered in our restaurant, a rich daily breakfast is also provided and vegetarian or other kinds of special dishes or even whole menus can be provided upon a timely request.
Restaurant
When relaxing in the vicinity of the swimming pool after your swim or when sunbathing in one of our comfortable sunbeds there is no better accompaniment than a cold 'freddo' coffee, a milkshake or a fruity light drink along with a complimentary snack from our pool bar.
Modernly decorated, with nice ambient lights to create a majestic sight at night, along with the swimming pool lighting decoration, it is manned with experienced bartenders that will fulfill each and every of your requests.
Pool Bar
Our specialized bartender will present to you a comprehensive selection of both classic and contemporary imaginative cocktails, as well as a wide variety of other long drinks, including some special and limited labels that you can ask for.
You can enjoy the drinks or specially prepared snacks both at the lavishly decorated main lobby or at the poolside tables and stands.
Indoor Bar